Managing Director and CEO's Letter
To My Fellow Shareholders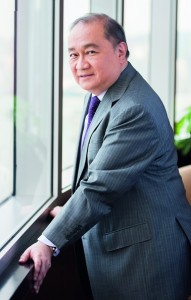 When we look back on 2016 in the years ahead, I fully expect we will regard that year as a turnaround, marking the point when First Pacific turned the corner, and resumed its growth in 2017 and beyond.
Contribution from operations was down 6% in 2016 at US$400.2 million in a poor trading environment marked by stiff competition in some of our more important markets. This sent recurring profit down 8% to US$264.9 million, even as we reduced Head Office borrowing costs. Net profit after exceptional items rose 28% to US$103.2 million on lower foreign exchange losses.
Lower revenues and margins at PLDT hurt profit at one of First Pacific's bigger investments; the strong results shown by the other Group companies could not compensate for this deficit, and lift the overall contribution in 2016. However, we are confident that PLDT is on track to stability and a return to earnings growth starting 2017. Indofood delivered record sales and profits, while continuing to maintain a very robust balance sheet. In 2016, we celebrated our first full year of management of Goodman Fielder with our joint owners Wilmar International, and were rewarded with a sharp 22% rise in core profit. Philex earnings also rose on high metal prices and lower costs. MPIC delivered record high earnings on record high revenues and looks set for a repeat in 2017, while our Singapore power plant PLP saw its negative contribution widen to US$13.9 million in a very competitive market.
As we opened 2017, there are some signs of recovery in PLDT's operating metrics. Given this, and continued strengths of the rest of members of the Group, we are confident in the immediate and long-term prospects for the Company, as we expect operating companies to improve their core profitability in 2017, and raise their dividend payments to First Pacific as well.
Net debt has declined by 8% to just over US$1.5 billion as at the year-end on a combination of lower gross debt and higher cash. As a sign of confidence, First Pacific's Board of Directors elected to leave the distribution unchanged on a per-share basis, resulting in a full-year distribution payout ratio of 28% of recurring profit.
Taken in the round, it is our sense that First Pacific is well positioned to return to the pace of profit growth and value enhancement – that the latter has, in fact, delivered a 16% compound annual growth in our Gross Asset Value over the past 14 years to our shareholders.
Yours cordially
M V Pangilinan
Managing Director and Chief Executive Officer
28 March 2017