Managing Director and CEO's Letter
To My Fellow Shareholders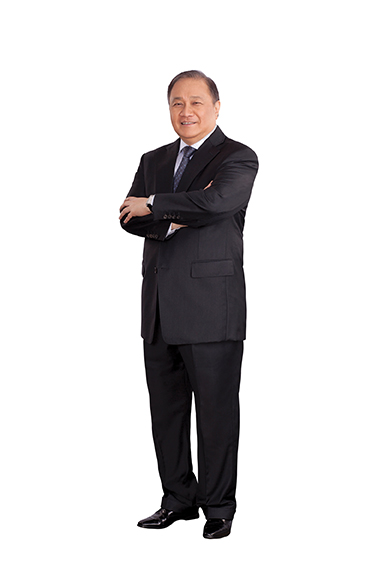 In the past thirteen (13) years, First Pacific has seen its Gross Asset Value ("GAV") rise at a compound annual growth rate of 17% – from US$1.2 billion in 2003 to US$7.9 billion at the end of March 2016. Your Company, the premier investment management and holding company for emerging Asia, has been fortuitous in making investments which have delivered strong returns to our shareholders, whilst improving the lives of millions of people in the ASEAN community.
The year 2015 was an extremely difficult year for First Pacific. PLDT is executing its digital pivot, as it prepares for a world in which its customers – both enterprises and individuals – use data more intensively, want a delightful digital experience, and seek digital solutions to their business or their daily lives. PLDT's Networks and Information Technology Platforms are being upgraded to address the challenge of moving into digital space. Core earnings will be down at PLDT in 2016 reflecting the cost of this digital transformation and, as well, continuing competitive pressure.
Indofood faces a similar condition. Weaker consumer demand has also exacerbated the competitive environment, particularly for its Consumer Branded Products and the Bogasari Flour groups. However, supported by its competitive advantages, its size and scale, and its ability to respond swiftly to market changes, Indofood will continue to show growth in its businesses in the coming year.
Philex is working towards finalizing its definitive feasibility study for its new and significant Silangan gold and copper project in northern Mindanao. In the meantime, continuing exploration work at the Padcal mine in northern Luzon has identified new reserves which can extend its mine life to 2022, and perhaps even beyond this.
2015 was an extremely strong year for Metro Pacific Investments. Its toll roads, water, power, hospitals and rails businesses all showed robust growth in 2015 despite the continuing regulatory uncertainty in respect of mandated tariff increases. A change in Government leadership by the middle of 2016 could alter this rather unhelpful regulatory environment.
Goodman Fielder has just finished its first year under our joint management with Wilmar International, reporting net profits as anticipated. We are confident that our enhancement strategy there will begin to deliver earnings growth starting 2016 and beyond.
Despite the setbacks we experienced this year in some of our operating companies, I am confident that our business models – combined with good management – will together help us overcome this temporary reversal. In some respect, this turnaround as in the case of PLDT, may take more than a year to effect. But I am confident that whether in PLDT or elsewhere, we will succeed in turning their fortunes around. We have done this better, and we can build better and higher. First Pacific is a great company – and it will be a better company in the years to come.
Yours cordially
M V Pangilinan
Managing Director and Chief Executive Officer
30 March 2016