Chairman's Letter
Dear Shareholders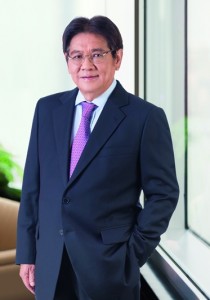 First Pacific's businesses are diversified in Asia and across telecommunications, consumer food products, infrastructure and natural resources with a broad commitment to earning our income from delivering the products and services that consumers in the fastgrowing economies of Asia want. Our model sustains us in difficult times when demand is low, and raises our earnings in periods of economic upswing. It has served us well for almost four decades.
Our markets delivered exceptional growth in 2016, with the Philippines among the world's fastest-growing economies with a 6.5% increase in gross domestic product, followed not far behind by Indonesia, with growth of 5%. Strong growth is forecast again in 2017 for ASEAN, and we confidently expect over the medium term that this will continue to hold true.
Just last year, Indofood achieved record of top line as expanding disposable incomes continue to increase consumers' appetite for quality food products. Strong demand for its toll road, electricity, water and other services helped lift MPIC, the biggest infrastructure firm in the Philippines, to its highest-ever profit. It now owns and manages 13 hospitals in the Philippines and plans to break ground on exciting and long-needed new projects like a children's hospital and a cardiac medical centre. Philex, one of the biggest mining companies in the Philippines, is benefiting from strong metal prices and finalizing how it would develop its Silangan gold and copper project in northern Mindanao.
By the same token, PLDT is observing an exponential increase in demand for data services, particularly mobile data, resulting in a surge in data revenues. However, the margins in this business are so far lower compared with margins in legacy income streams like SMS and voice. The transformation from traditional telco to being a modern provider of telecommunications data and media services is proving difficult. Nevertheless, we believe that PLDT's future remains bright and we are expecting a return to growth earnings at the Philippines' biggest telecommunications provider starting 2017.
Our companies are committed to expanding capacity to ensure we can meet the growing demand for our offerings. PLDT continues with its elevated capital expenditure in order to meet the fast-growing demand for bandwidth-hungry data services-as much as US$900 million this year after spending similar sums in 2015 and 2016 to install and expand world-class telecommunications and network equipment in data and media market. At Indofood, we plan to spend over US$600 million to expand our capacities for consumer branded products, flour mills and plantation areas to meet increasing demand. All in all, we are committed to capital expenditure spending of over US$2 billion in 2017 alone to ensure we can meet the demands of our hundreds of millions of customers and clients across the region this year, next year and in the years ahead.
We expect 2017 will mark a return to growth for First Pacific as PLDT begins its recovery, and our food and infrastructure investments continue to benefit from strong growth in our markets. We therefore can look to the future with optimum confidence.
Yours sincerely,
Anthoni Salim
Chairman
28 March 2017