Chairman's Letter
Dear Shareholders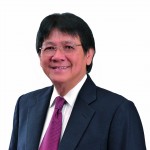 It is easy to look at our Group of companies and see them in terms of superlatives – the biggest food company in Indonesia, the biggest telecommunications provider, the biggest water, toll roads, power and hospitals companies in the Philippines, and one of the biggest food companies in Australia and in New Zealand. I find, however, that a richer understanding of our Group comes from considering us not in quantitative terms but in qualitative ones. Indofood is number one because it is quality people making quality and affordable foods. PLDT is working through its digital pivot because it has put in place a quality management team to go through the transformation process. MPIC continues to generate record high performance because of the quality of its team. We have come through a difficult year in 2015 and I am confident that we have the assets in place to ensure a very successful year in 2016.
First Pacific's performance in 2015 underlines the quality of the companies under our management. Under difficult circumstances, we continued to perform. In Indonesia, the continuing slowdown in the domestic economy as well as weak CPO prices and rupiah average exchange rate posed challenges to Indofood's performance. We nevertheless managed to increase sales overall and we are hopeful that continuing strong economic growth will bode well for consumers' purchasing power and our earnings in Southeast Asia's biggest market.
In the Philippines, strong growth has powered MPIC to yet another year of record high profits, while tough competition has held back PLDT, though we are optimistic that our investment to build a high quality telecommunications infrastructure will return it quickly to earnings growth. Meralco is pushing ahead into electricity generation to help power the Philippines' growing economy even as its electricity distribution continues to new highs. Philex is finalizing plans for its Silangan gold and copper mining project. In the round we expect to end the year in a stronger position than we are currently. We are quite optimistic that we have the people and the tools to ensure a bright future for First Pacific and all our stakeholders.
In Australia, we are turning around and refocusing Goodman Fielder, one of the country's biggest food companies, in partnership with Wilmar International. We are convinced that Goodman Fielder quality will find ready customers in the fast-growing markets of emerging Asia where we have already got strong distribution.
2016 is likely to be a year of consolidating many of our gains and working with our operating companies to ensure a return to growth in our dividend income, which finances new investments and our own dividend payments to shareholders. We remain strong and confident about the future.
Yours sincerely,
Anthoni Salim
Chairman
30 March 2016